Case Files
Case File Numbering System
Each case number represents the number of cases we have profiled for that category and gender. For example, 255UFFL means that we have profiled 255 unidentified females on our website. This does not mean that this is the current number of unidentified females we have listed as active, as many cases have been closed over the years.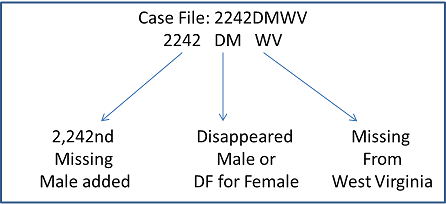 Case Number Index
We are in progress of updating this portion.
The following index lists case files in sequential order, including those that have been closed. In some events, the appropriate case will not be listed as case numbers were recycled. Hot cases (HC ###) are not listed until they are assigned a regular case number. We have since phased out assigning Hot Cases special numbers and now assign regular case numbers for continuity.
---