The Doe Network:
Case File 202DFITA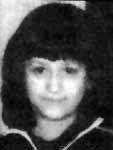 Stefania Puglisi
Missing since December 6, 1981 from San Giovanni Galerno, Catania, Italy.
Classification: Missing
---
Vital Statistics
Age at Time of Disappearance: 6 years old
---
Circumstances of Disappearance
At 19.00 the evening of December 6, 1981, Stefania Puglisi disappeared from San Giovanni Galermo, a suburb of Catania on the lower slopes of Mt. Etna. She left her grandmother's house to look for a cardboard box to put Christmas decorations in. She thought she could find a box at her house or perhaps at the dump adjacent to the working-class houses. Puglisi headed toward her house, which was only about fifty yards away. She walked the short distance carrying a little Pinocchio doll, her favorite toy.
In front of her doorstep she met a girlfriend; the two girls chatted a bit, but at a certain point their attention was attracted by something. They turned to look toward the darkness, near some houses under construction. There was a parked car, a light-colored Fiat 500, with a man in it.
According to an eyewitness, the man called Puglisi and she went toward the car, while the other girl turned and went home carrying her friend's Pinocchio doll. Stefania was allegedly forcefully pushed into the car. Her mother arrived a few minutes later, and tried calling her in a loud voice, but to no avail. The girl has never been seen since. The eyewitness of the kidnapping allegedly received various threats, but it is not known from whom.
After Stefania's disappearance, the Puglisi family received anonymous phone calls that reported Stefania's presence in various apartments in the city. But when the police would arrive at the places indicated, they would find, instead of the little girl, weapons, drugs, and various stolen goods.
On January 23, 1993, twelve years after Stefania's disappearance, Samuele Ventura was shot to death in the Picanello quarter, as he was returning to the Bronte prison. A year later a repentant Mafia man stated that the homicide had been committed to punish the person who had killed Stefania Puglisi. The Mafia had "executed" him. This claim has never been verified.
Stefania's parents are convinced that it was a relative who kidnapped Stefania. The man had allegedly threatened their children a few days before Stefania's disappearance. But the police have never given credence to this theory.
---
Investigators
If you have any information concerning this case, please contact:
Chi L'Ha Visto
Email
Source Information:
Chi L'Ha Visto
---